The Artist
I am a 35 year old mother of four from Sipoo, Finland. There are six members in my family: four children, my husband and me. My youngest child is four and the oldest is 13. Other family members are three dogs, a cat, two rabbits, a hamster and two horses. We live in an old house by the Baltic sea surrounded by cliffs, forest and the sea. I'm convinced this serene surrounding has a direct impact on my art and inspiration boosting my creativity.
I have always liked drawing but never really  put my mind to it or made proper effort to find time for it. Until now. When I start painting, I can't let go until it truly feels completed. Because I see the world through little details, it easily takes 20-30 hours to transfer everything I see to the painting, even middle sized paintings.
I am a self educated artist further developing myself by constantly trying out new methods. I feel self learning is my strength.
Only positive, happy environment trigger my creative flow and I can see that my feelings are transmitted onto my work. The subject that I'm working on becomes very familiar and alive during the hours we spend together. As a result, the owner of the painting can feel the souls of both the object and the artist, the beautiful Finnish nature as well as the feelings that were present during painting. I'm convinced that is why looking at the paintings is so touching.
During the last few years I have spent a lot of time considering my future and what I want to do with my life. I noticed that in one way or another, art was always included in the answer.  Once I realised that my art touched people, that during the painting something magical happens and when the finished painting was an amazement even to myself, the road ahead seemed pretty clear. Now I'm constantly looking for ways and trying to find time to pursue my creative calling. That is how Kata's Art was created! It is early days yet but I feel very inspired. I can't wait to see where my open heart and the road take me. Do join me on my journey!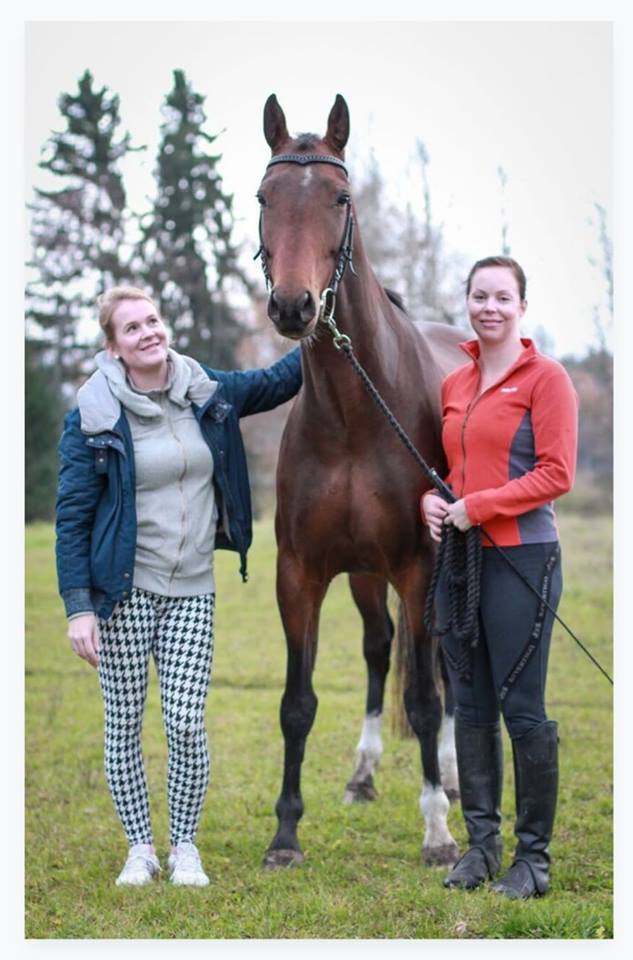 In the above picture I'm on the left and my number one biggest supporter, my twinsister, on the right. The horse in the middle is our Finnish Warmblood mare Viivi.
Copyright of the photo Kaisa Määttänen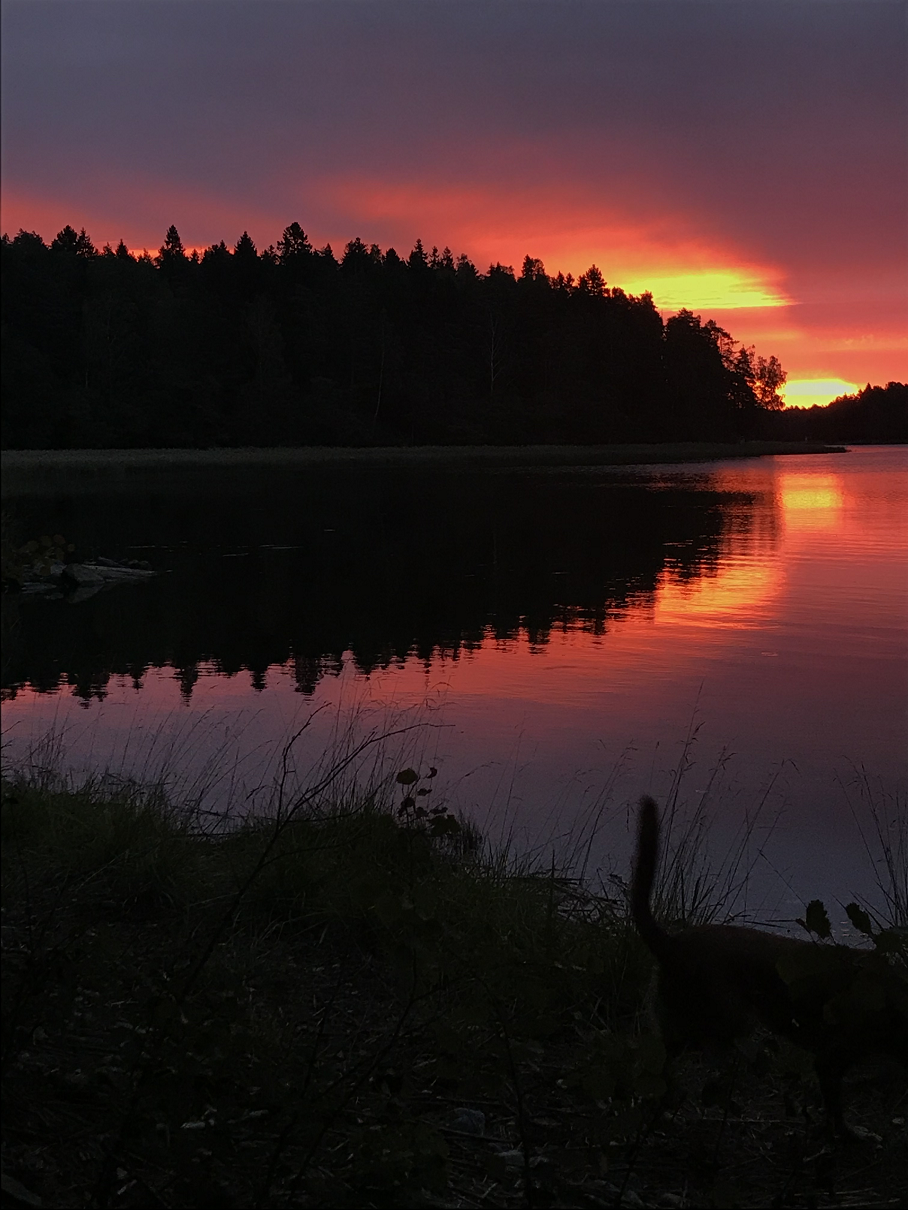 Taiteilija
Olen 35-vuotias neljän lapsen äiti Suomesta, kauniista Sipoosta.  Pienin lapsistani on neljävuotias ja vanhin 13. Perheeseemme kuuluu lasten ja mieheni lisäksi kolme koiraa, kissa, kaksi kania, hamsteri ja kaksi hevosta. Asumme Itämeren rannalla vanhassa omakotitalossa metsän, kallioiden ja meren ympäröimänä. Tämän seesteisen ympäristön tunnen vaikuttavan suoraan taiteeseeni, inspiraatiooni ja kokonaisvaltaiseen luomisen tunteeseeni.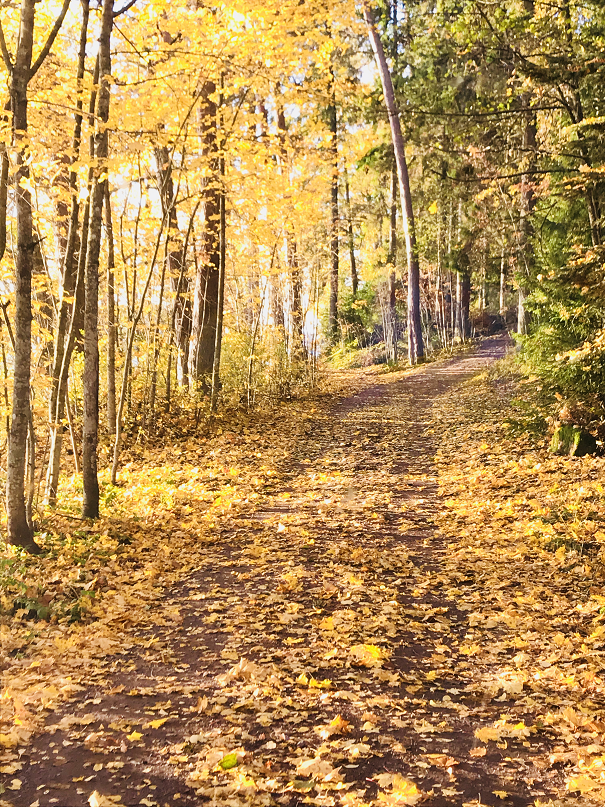 Olen aina pitänyt piirtämisestä, mutta en ole sen kummemmin paneutunut siihen eikä siihen ole tuntunut löytyvän edes aikaa. Jos aloitan jonkin työn, en pysty jättämään sitä kesken ennenkuin se tuntuu täysin valmiilta. Koska näen maailman pienten yksityiskohtien kautta, kaiken näkemäni siirtämiseen tauluun menee helposti 20-30 tuntia aikaa keskikokoisessakin kuvassa!
Parin viimeisen kuluneen vuoden aikana pohtiessani mitä elämälläni haluaisin tehdä, huomasin vastausten aina liittyvän jollain tapaa taiteeseen. Huomasin teosteni koskettavan ihmisiä ja sen, että niitä tehdessä jotain maagista tapahtuu. Tämä sai itsenikin aina lopuksi ihmettelemään teinkö minä todella tämän? Vastaus pohdintaan alkoi vaikuttaa varsin selkeältä ja ryhdyin tietoisesti etsimään aikaa ja tapoja toteuttaa taiteellista puoltani. Näin syntyi Kata's Art! Olen vielä alkutaipaleella, mutta innokkaana. Sydän auki katson minne tämä reitti minua vie! Tule ihmeessä matkalleni mukaan!
Olen itseoppinut taitelija. Kehitän itseäni koko ajan opettelemalla ja kokeilemalla uutta. Koen tämän olevan vahvuuteni.
Pystyn maalaamaan vain positiivisessa flowssa ja näen että tunteeni välittyy teokseeni. Maalattava kohde tulee yhteisten tuntien kuluessa erittäin tutuksi ja eläväksi edessäni. Lopputuloksena teoksen saaja voi aistia sekä maalauksen kohteen että taitelijan sielun, puhtaan kauniin ympäröivän Suomen luonnon samoin kuin ne tunteet, jotka ovat läsnä maalatessa. Siksi taulun katsominen koskettaa, näin uskon.